Apr 23 2014
Happy Earth Day 2014:  Pass It On!
The HRO is gearing up for a busy season of promoting local opportunities for family life and economic health right here in Hampton Roads.  Get involved and help us make a difference in our communities!  Sign up for our newsletter, like us on Facebook, and find out how you can volunteer with the Human Relief Organization today.
Upcoming Events for April and May
HRHCC Business Mixer
WED 23 APRIL 6-8 PM,
1580 Laskin Road
Virginia Beach, VA 23451
(757) 422-4055
Join the Cámara de Comercio Hispana de Hampton Roads (Hampton Roads Hispanic Chamber of Commerce) and their host, Bank of Hampton Roads, for the Southside After Hours Business Mixer.  This is a great public forum for anyone planning to start their own business to network and for small business owners to promote ways their businesses meet needs of the community.  There is a nominal $10 participation fee at the door.  Contribute a door prize to promote your local business!
---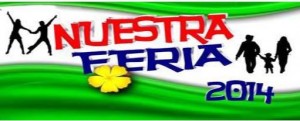 Nuestra Feria 2014 at Red Wing Park
SAT 10 MAY 11AM-5PM
1398 General Booth Blvd.
Virginia Beach, VA
This community fair is the HRHCC's 4th annual grass roots event, providing valuable branding sponsorship opportunities for those looking to reach out to the Hispanic/Latino community of Hampton Roads.
The children will enjoy face painting, bounce houses, arts and crafts activities, popular cartoon characters, animal balloons, story time, fitness activities and plenty of treats throughout the day.
Ethnic food vendors will be on hand.  Spaces are limited, so any local food vendors interested in a booth need to contact the organizer (see information below.)
Family entertainment will showcase local performers such as dancers of various music genres, folklore dance groups, vocalists, and popular local radio DJ's and presented by professional MC's.
Vendors, exhibitors and recruiters will be on hand selling a variety of merchandise, showcasing products and/or services, and looking for prospective employees.
Don't miss Nuestra Feria 2014!  If you would like to find out about sponsorship opportunities, please contact Guidela Torres, Nuestra Feria 2014 Committee Chair at (757) 422-8038 ext. 4407 or email nuestraferia.hrhcc@gmail.com.
Comments Off