Welcome to The HRO Web Site
---
PLEASE SUBSCRIBE TO THE HRO NEWSLETTER & LIST: HERE
PLEASE UPDATE YOUR E-MAIL AND CONTACT INFO: HERE
---
Newsletters and Meeting Minutes
——————————————————————————
HAPPY

20th

Anniversary

Human Relief Organization

Thanks You!

All of us at Human Relief Organization would like to thank you for your support.

Your contributions to our global health programs means so much to us.

On behalf of all those who will benefit from your generosity through out the year, we thank you.

Making The World A Better Place To Live
---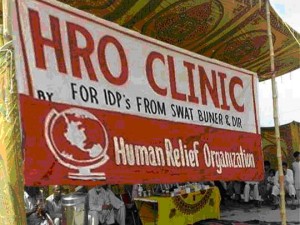 Read about HRO's rapidly expanding relief efforts in Pakistan: HERE
---
Make yourself at home and browse around
The Human Relief Organization is dedicated to the relief of human suffering among the underprivileged people of the world. Our core values are that the needs of humanity are best served by supporting conditions and activates that integrate service to body, mind, and spirit.
Through HRO programs; beneficiaries are brought from a state of helpless dependence to one of personal and community independence and empowerment.
HRO serves as a link to bring together individuals, corporations, institutions and other entities that have essential resources and good will to provide relief and empowerment to those who lack the fundamental necessities of life.
---
Wanted
–Volunteers for local (Hampton Roads) & International programs
–Donations of medicine and educational materials
-Surplus goods for humanitarian programs
If your organization can donate/contribute medicine, educational materials or
needed items of clothing such as shoes; HRO can get it delivered to those in need.
Human Relief Organization (HRO) is a non-profit (501C)(3) organization. Your donation is tax deductible.
---
Beginning of HRO Video
---
Flying School bus Lands in Guatemala!
HRO "Flies" Mobile Clinic to Guatemala for Jungle Medic Mission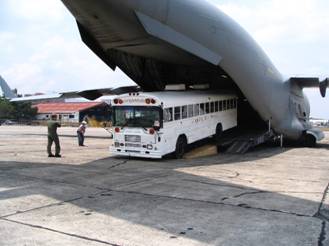 Seeing is believing. That is a BUS coming out of a C17 cargo plane. This is a very special bus converted into a mobile medical clinic.
---
Child Reach & Project Hope Fundraising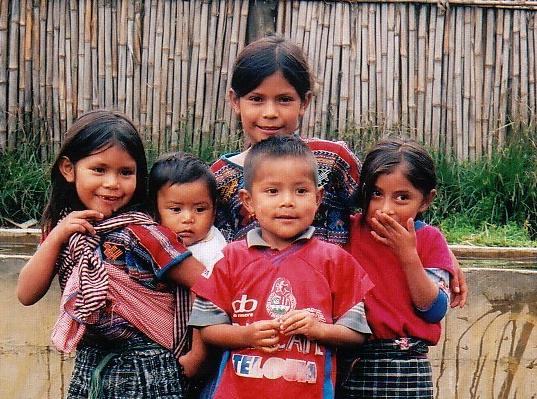 In the last 12 years the Human Relief Organization has facilitated the delivery of over $100 million in global aide to more than 30 countries. Now HRO is undertaking the building of facilities and schools for the homeless children of the world, with unique structures and operating methods designed to uplift not only the lives of the children, but the surrounding community as well.
As HRO Approaches it's 13th Anniversary year, we have a $15 million goal to achieve in support of ChildReach and Project Hope. Please participate in our numerous fund raising events or become one of our donors by making a contribution with your credit card now. Your name will be added to the Contributors list here on this website to say thank you, as you join the global community of philanthropists dedicated to serving humanity around the world.
Human Relief Organization (HRO) is a non-profit (501C)(3), tax exempt, international relief organization established in 1995 in the United States that serves the needy around the world. (EIN#: 54-1703803). Your donation is tax deductible.
---
United States Military Supporting HRO's Missions

Fleet Logistics Support Squadron 52
Provides Relief To Children of Djibouti Africa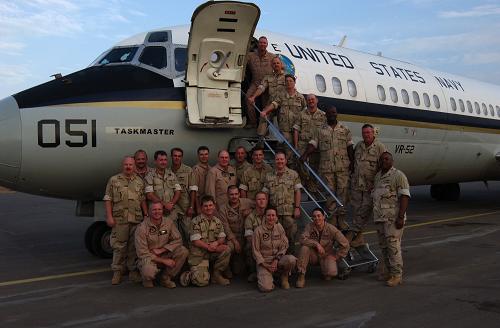 Delivery to Djibouti Orphanage



The Denton Program is a commodities transportation program authorized under Title 10 U.S.C. Section 402. The U.S. Agency for International Development (USAID), the Department of State (DOS), and the Department of Defense (DoD) jointly administer the Denton program. The program provides the authority for DoD to use any extra space on U.S. military cargo aircraft to transport humanitarian assistance materials donated by non-governmental organizations (NGOs), international organizations (IOs), and private voluntary organizations (PVOs) for humanitarian relief. HRO would like to thank the Denton Program for it's continued support and assistance in the transport of numerous donations to various countries the we reach out to in need.
U.S. Navy Aviation Maintenance Duty Officers
Combined Federal Campaign Organizational Code: #6239
---
HRO Sponsors
Camping stove retailer iENERGY Inc. click here: CAMPING

Go International Group LLC

Anthony D. Gosine, Senior Consultant
https://www.facebook.com/GoInternationalGroupLlc