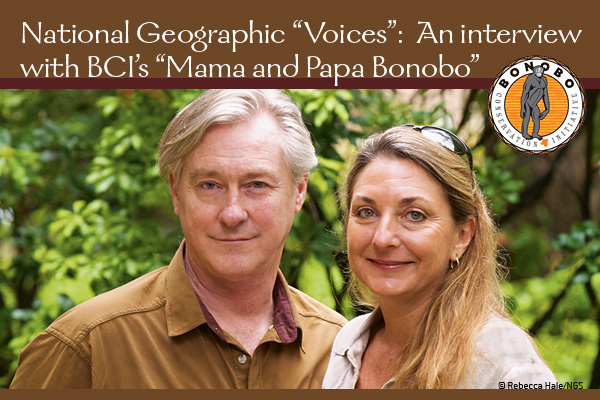 Sally Jewell Coxe and Michael Hurley, the president and executive director of the Bonobo Conservation Initiative (BCI) share their story in the recent nine-page National Geographic article, Mama and Papa Bonobo. The article was published in the international edition of the magazine, produced in several different languages and distributed to countries around the world–from Mexico to Czechoslovakia. We are grateful to National Geographic for spreading the word about bonobos, a species still little known to most people, even though they are humankind's closest living relatives!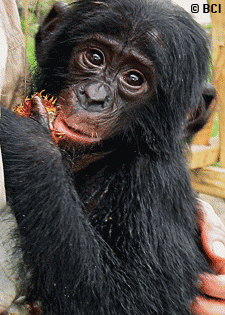 The National Geographic "Voices" Interview, highlights BCI's work and unique approach, which recently resulted in creation of a large new rainforest reserve in the Democratic Republic of Congo (DRC). Coxe and Hurley describe the organization's valuation of local culture and commitment to capacity building and empowerment of Congolese partners and communities. "It's all about partnership–and locally-based leadership," says Coxe.  That is why BCI has "built a strong network from the grassroots all the way up to the top levels of the DRC government."
Recognizing that the local people are the ultimate stewards of the rainforest, BCI seeks to address the livelihood and humanitarian needs of the local people, helping to provide the resources necessary for long-term sustainability. Hurley says, "We help improve education, health, and employment prospects so that they [local people] will become the guardians of the forests."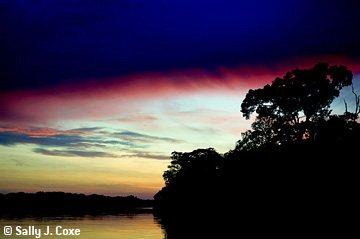 Guardians of the forests are exactly what bonobos need.  Hurley says, "The race for the rainforests is on…we're up against the clock." Bonobo habitat is under threat and global warming is accelerating. The bonobo habitat is the prime target for logging concessions in the Congo. Coxe reiterates the critical need to face the issue, "Today, as logging companies scramble for concessions, the DRC government must weigh protection of the bonobo habitat as part of its pledge to reduce global warming. The rainforests' flagship species face an uncertain future."
BCI has made considerable progress with the establishment of the Sankuru Nature Reserve, a massive 11,000 square mile rainforest reserve for bonobos and other rare species. Together with partner organizations,
BCI continues its efforts to establish more community-based protected areas linked by habitat corridors in the proposed Bonobo Peace Forest (see map).
As the threat to bonobos and their habitat grows, it is more important than ever to take action with Congolese partners and community members working every day throughout the bonobo habitat. Such cooperation and increased international support is ever more essential to successfully address the complex problem of bonobo and rainforest conservation.
If you would like to find out more information about the Bon0bos or you would like to make a donation, you may go visit us at www.bonobo.org or you may mail it to the following address:
Bonobo Conservation Initiative
2701 Connecticut Avenue NW#702
Washington, DC 20008